The need to combat antisemitism is an urgent concern for all – both Jews and non-Jews – who wish to live in societies that are free from hatred.
Led by the trainers of CEJI – A Jewish Contribution to an Inclusive Europe, the 'Overcoming Antisemitism TTT' trains two new cohorts of educators, one in English and one in French. These new trainers throughout Europe have been equipped to collectively reach 1,000 people during the NOA project and remain an anti-bias resource for the long-term. The training and manual is based upon the two-times award winning project Belieforama, focusing on educational approaches to change biased attitudes and discriminatory behaviors in order to create inclusive and equitable environments.
The Overcoming Antisemitism training course was developed within European Commission funded projects, most notably known as Belieforama: A Panoramic Approach to Issues of Religion and Belief, which was the first prize winner of the BMW Group Award for Intercultural Commitment. Its predecessor project to develop an innovative training programme to confront discrimination based on religion and belief) was honoured with the Gold Award from the European Commission Lifelong Learning Programme in the category of adult education. The Belieforama suite of training programmes, which includes Overcoming Antisemitism, is being offered regularly by CEJI in Belgium to social workers, teachers, NGOs and public administrations. We would like to share this tremendous resource for similar work in other countries. After 15 years of experience with this training programme, the manual is now updated for dissemination through the NOA project and a new cohort of educators.
The next Train The Trainers of the NOA project will take place from 20 to 23 June in Brussels, Belgium, in French language. Registrations for participation are already open and available for application until 16 May. You can find all the information on this link.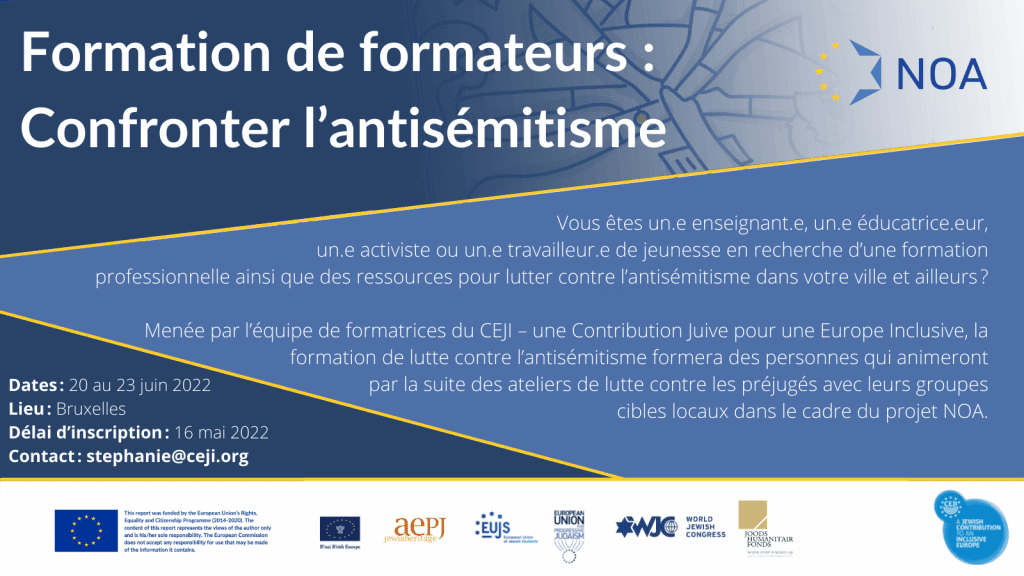 Peninah Zilberman, CEO and founder of the Tarbut Sighet Foundation and AEPJ member in Romania, attended this first seminar. This is the positive feedback we have received from her:
Representatives from Austria, Lithuania, Hungary, France, Germany, Holland, Spain, Croatia, Italy, Poland and yours truly from Romania gathered to study, be trained, coached, instructed and preparing the participants to be able to Train in the future high school students, teachers, policeman, staff at official Municipalities etc.

I must admit when I completed the application, I truly hoped I will be chosen to participate, my only hesitation I had in my mind was that the training takes place right after Passover and just before Yom Ha'Shoah. Indeed, it was a special event and I am pleased to report that regardless of the dates, it was definitely worth the effort.

The Seminar was interesting, stimulating, inspiring and motivating to take action in addition of forming new friendships and networks for our future organizations.

It is unfortunate that currently there is an enormous increase of Antisemitic incidents across Europe and north America. These incidents are not taking place only in universities as it was common in the past but against individuals identified as Jews by there attires, on main streets of major cities.

The issues we dealt with were very much taken right from the field while trying to provide solutions and new perspectives to resolve issues as we exercised new approaches.

Related topics we dealt with were: Identity, Cultural Awareness, Pyramid of Hate, Examining the IHRA definition of Antisemitism while compering to The Jerusalem Declaration of Antisemitism and the Nexus Document

On the final day we were presented with the "Hands on Manual", each participant together with a partner had the opportunity to experience and practice a specific assigned exercise. We listened and provided our colleagues with feedback on their presentation.

Personally, I think this was the highlight of the Seminar, as we all left looking forward to bring the NOA techniques into our communities.

Highly recommend the Seminar, sometimes Training is done in the French language as well, the next one will take place in Brussels June 20th – 23rd, for further information

https://www.noa-project.eu/la-formation-des-formateurs/

I would like to take this opportunity and thank Robin Sclafani, Director – CEJI for your continued support and encouragement throughout the training, Stephanie Lecesne, Training Coordinator you taught us the "How, Why and What" and Tamas Buchler, NOA Coordinator for taking care of all the Seminar details to provide all participants with a positive experience.

Wishing you all a wonderful summer

Peninah Zilberman
Founder & CEO
Fundatia Tarbut Sighet